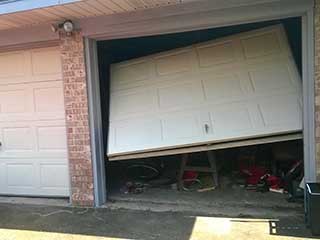 Whether you want to improve the overall security in your home, increase the value of your property or reduce energy bills, there are plenty of reasons to replace your garage door with a new unit. Here are the top five.
Enhanced Safety

Newer garage door models are made of almost indestructible material, keeping your home safe from criminals who are after your valuables. If you are concerned about your old door not being fitted properly or you deem burglars could get inside your garage without much hassle, upgrading to a newer model is a logical solution. It will keep your belongings safe and give you a piece of mind at night.

Reduced Utility Bills

If your old door is ill-fitted or poorly insulated, you may be losing more money on energy bills than what you would spend on a new door. Indeed, a well-insulated garage door will keep the heat and cool air inside during extreme weather and save you money in the long run.

Noise Reduction

Everyone has that one neighbor whose garage door squeaks and squeals as it struggles to opens. If you found yourself in that description, it might be time for an installation of a modern model. By fitting a new unit, you will also greatly diminish the street noise that enters your house.

Lower Upkeep Costs

Have you found yourself patching up your old door with new layers of paint and stain finish all year round? Newer door models come in a variety of maintenance-free materials which only require general soap and water cleaning. This decision might prove worthwhile in the long-term context, especially as it saves your time and means you don't have to buy maintenance products anymore.

Are you Holding Yourself Back?

Is it time for a garage door replacement? I know that sometimes it's hard to part ways with your old unit, especially if it served you well for a long time, but it is important to think objectively. If a replacement could bring you a long-term return on investment, or will make your home more secure and appealing, then why wait?