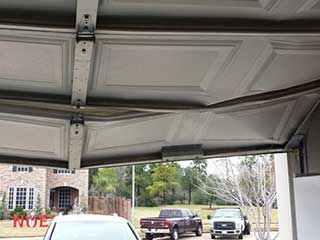 A malfunctioning garage door is a real problem. It can greatly inconvenience your daily routine, not to mention prevent you from getting in or out of your garage. When something like that happens, you need to make sure the repair work gets done by a professional who knows exactly what he's doing. Every one of our team members specializes in carrying out all sorts of tasks quickly and safely.
Finding The Cause
Sometimes it can be obvious why a door has failed to work; a broken spring, for example, makes a loud bang when it snaps and usually forces the door to slam shut. However, it can often be much harder to pinpoint the exact issue that's rendered the system inoperable, especially when dealing with something that takes some investigative work, like a fried opener circuit bored or misaligned safety sensors. That's where our experienced technicians come in. We'll track down the underlying problem and address it on the spot by adjusting, repairing or replacing the part that's causing it.
Checking For Additional Damage
A garage door system is under a lot of tension, and when one part fails to work properly it can cause damage to other components. A broken cable will force more weight on the springs and the other cables. A bent or misaligned track can cause the rollers to wear out. It may even lead to the door getting off track, which is a serious safety risk. Our technicians will carefully examine the entire system and make sure no other part has sustained extra damage as a result of the main problem we discovered.
We're Waiting For Your Call
Our team is ready to solve any issues you're experiencing. No matter how big of a problem you may have on your hands, we can help you take care of it. Contact Garage Door Repair Brooklyn today for more information.
But wait, there's more! We also offer:
Overhead Door Installation
Garage Door Tune Up Services
Opener Sensor Repair & Replacement
Broken Garage Door Spring Replacement