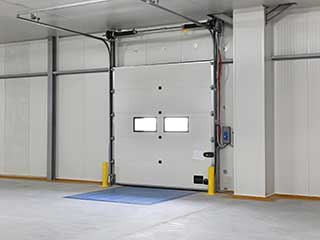 What Is Torsion vs. Extension?
There are two main types of springs used for garage doors, both with the same purpose of building up energy through tension that powers the door's movement. Without them, your door wouldn't be going anywhere very easily, because it's much heavier than it may look. The difference between the two types is in how this tension is created. Torsion creates it by twisting to build up the energy, while extension springs are stretched out to do so. Torsion springs are the most preferred type due to being more durable and safer as well. The constant tugging out to their limit creates much more wear on extension springs than the twisting motion of tension, so they'll break far sooner and more easily. They're also dangerous when they do snap because of being stretched out, as it causes them to go flying and potentially cause damage.
We Can Replace Either Type
Whichever kind of springs your door has, our experts will be able to take care of them in no time! We're deeply familiar with both kinds and will be able to determine easily whether or not one has broken to replace it, as well as whether the other springs are worn down enough that they should also be switched out. It'll be taken care of in no time, and far more easily and safely with a professional handling it for you. Attempting to DIY anything to do with the springs can be extremely dangerous and we highly recommend that you leave it to someone who's trained.
Adjustments & Lubrication
We'd also be happy to come out and take a look at your garage door's springs to determine if they could use adjustments to make your door move more smoothly, or if lubrication is all that's needed. Lubrication is particularly helpful in keeping your springs in good shape for longer.
Contact Us Today
Call Garage Door Repair Brooklyn today and get your spring appointment scheduled!
Want more? Let us take care of:
New Opener Remote Controls
Roll Up Garage Door Services
Garage Door Troubleshooting Services
LiftMaster Garage Door Maintenance