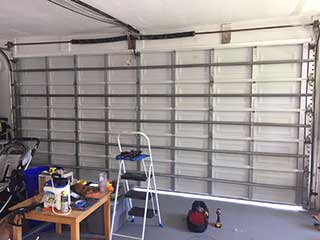 The maintenance service our technicians can provide you with will help your garage door stay safe, secure and fully operational for a very long time. Dealing with things like the springs, cables and the opener can be time consuming, as well as dangerous, so all you need to do is leave it up to us.
A Full Examination
We start by performing a complete inspection of the entire system. We'll check the condition and the functionality of every single component, from the opener's circuit board to the exterior panels and every other hardware part that's between them. If we find any issues, we'll repair them on the spot. Once we're done with that, we'll move to the next steps.
Spring Adjustment and Roller Lubrication
It can be argued that the springs are the most important parts of the entire system. They support the weight of the door and help it move up and down. Unfortunately, that also means that they are under a lot of stress, and will eventually snap. A broken spring is very dangerous, and must be handled by professionals. By adjusting the tension of these components every time we service your door we'll reduce their strain and increase their working longevity. As for the rollers, they are also quite crucial, as the door won't be able to move along the tracks without them. That's why we will lubricate them and replace any worn out roller we find.
The Opener Sensors
If your garage door sensors are misaligned, the system is not safe to use. It's as simple as that. Without these photo-electric eyes, the opener won't be able to tell there's something or someone under the door, which means a serious accident could occur. Our technicians will test the safety reversal system to make sure it's working correctly. If we find that it's not, we'll perform the necessary sensor realignment and make sure all the electrical wires are properly connected.
Today is Better Than Tomorrow
It's better to act before something bad happens. Our preventive maintenance service will reduce the risks and keep your door in a great working condition. To schedule an appointment, contact our team at Garage Door Repair Brooklyn today.
Our team can also take care of:
LiftMaster Chain Drive Lubrication
Genie Garage Door Opener Services
Emergency Broken Spring Replacement
Garage Door Cable & Track Repairs