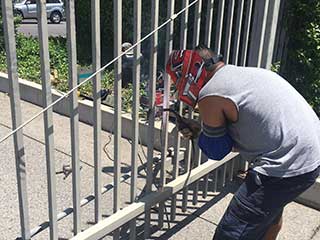 Your electrical gate can be an incredibly useful addition to your daily routine. Whether it's installed at your home or at your business, it will certainly add a sense of upscale class and security to your business or residence. However, just like any other technological system, malfunctions or breakdowns are bound to occur. Common problems with automatic gates can include a delay in responsiveness, complete disablement, catching or stopping during movement and excessively noisy operation. Our team can correct all of these issues without wasting any of your time.
Problems with Electrical Components
A delayed response can be caused by an electrical supply issue. In cold weather the battery can lose its ability to create sufficient electrical charge to power the system upon first instruction. It can take a few attempts at activating the system before the battery warms up enough to function. If your gate refuses to open at all, one of the most common causes for this is a sensor issue. For safety reasons, the sensors prevent the gates from activating when they detect the presence of an object it the way. They could be misaligned, and this would prevent them from allowing the gate to move at all.
A Few Mechanical issues
Sliding gates that run along a track can be halted and reversed if their tracks become filled with objects or dirt. The tracks will naturally become filled with dirt over time if they are not cleaned regularly. This dirt can be compounded by the weight of the gate each time it travels over the track until it becomes too dense at a certain point to allow the gate to pass. Tracks can also be dented and damaged, which, if not corrected early, can lead to far more demanding repairs in future.
Expert Gate Repair and Installation
Garage Door Repair Brooklyn offers expert gate repair and maintenance services. Whether you have a malfunction automatic or manual gate, we have the expertise to be able to fix it or install a replacement design that will better suit your needs. Many situations will require a lengthy and thorough diagnostic check to identify the exact causes of the issues you're experiencing, but our technicians can get those done quickly and take care of any problem on the spot. Contact us today for more information.
Give our team a call if you need help with: